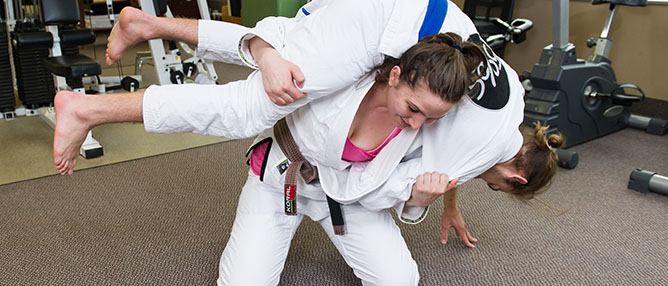 "At ACE Physical Therapy and Sports Medicine Institute, I saw patients of every age and athletic ability receive great, personalized care.  The Physical Therapists supported me in reaching for my main goal to return to competition shape. "
Maia Matalon
I train and compete in Brazilian Jiu Jitsu. While preparing for the 2016 World Championships,I tore my ACL in practice. During recovery, I tore my knee again and had to have a second surgery.For rehab, my coach recommended ACE Physical Therapy and Sports Medicine Institute.She just had a shoulder surgery and was pleased with the support she received. Plus, it was super convenient since I live in Falls Church.
I wanted to return to competitive levels, so I wanted Physical Therapists who would push me to push my limits. I also wanted them to keep me safe and slow me down when I needed to take it easier. The highly skilled staff memberskept me on track, thinking about my sport specific needs and reminding me to be patient when necessary.
At ACE Physical Therapy and Sports Medicine Institute, I saw patients of every age and athletic ability receive great, personalized care.  The Physical Therapists supported me in reaching for my main goal to return to competition shape. I'm not competing yet, but it's part of the plan! I have returned to practicing in Jiu Jitsu class and feel confident that with time I'll be back to 100%.