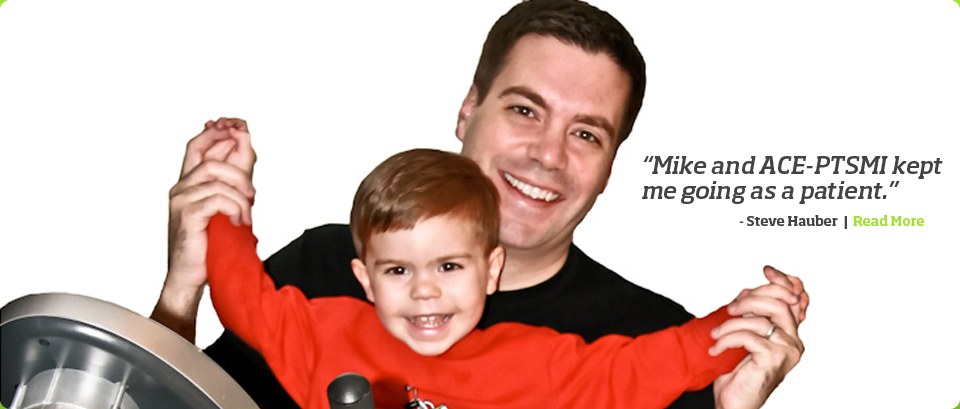 "My surgeon told me to listen to my PT if I didn't want to see him again. Mike and ACE Physical Therapy and Sports Medicine Institute kept me going as a patient. Mike is instantly likeable, credible, and motivational."
Steve Hauber
A magazine publisher chose ACE Physical Therapy and Sports Medicine Institute after knee surgery and during his therapy a new publication – for physical therapists – was born.
Steve, who publishes the nation's largest publication for Registered Nurses, was sitting on the floor Indian-style, playing with his 1-year-old son. When he started to get up, he lost his balance and tore the meniscus in his right knee. Surgery at Georgetown University Hospital came next, and when he awoke from the anesthesia, Steve's surgeon said the tear was worse than anticipated and he wasn't sure the repair would work.
"I had a lateral tear that required 9 stitches, and if it were not for my age and physical condition, my surgeon said he would have removed the meniscus completely," Steve says. "He told me if I did not want to see him again, I would have to be diligent with my physical therapy. 'Listen to what your PT says, and we won't have to see each other again."'
Steve spent the next several months at ACE Physical Therapy and Sports Medicine Institute and, of course, the first question he was asked was how did it happen? "Due to the 'un-coolness' of my injury, I gave serious thought to telling Mike I was hang gliding in Napa, caught an updraft, and crashed into the side of a cliff. However, I thought better of it, and came clean with the true story of my 'Indian-style' accident.
"Mike assured me that my injury was very common, but that the number of stitches I received was not, and he reiterated my surgeon's advice, 'you need to listen to me.' Again, good advice."
During his sessions at ACE Physical Therapy and Sports Medicine Institute, Steve had several conversations with Mike Ercole about physical therapy, asking what he and the staff liked about the professional magazines they read, what they didn't like, and why. "With those lessons in mind, sitting on the stationary bike in Mike's office, Today in PT was born. Since then, our team and our Editorial Advisory Board have worked tirelessly to create the very best magazine possible, and I couldn't be more proud of the results."
Steve Hauber